Martin Crew tells why his Catholic faith is stronger than ever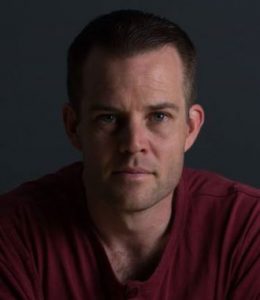 Source: Hawkesbury Gazette
Justine Doherty, 17 Feb 2017
Picture: Geoff Jones
North Richmond Catholic Martin Crew. A Catholic parishioner from North Richmond has stepped forward to defend his faith in light of last week's figures released by the Royal Commission into Institutional Responses to Child Sexual Abuse.
The Royal Commission's findings – that 4444 people have come forward as having been abused in the Catholic system over 35 years, with 1880 perpetrators identified – have been a "monumental blow" according to the Archbishop of Brisbane Mark Coleridge. The Archbishop of Sydney Anthony Fisher said "as Catholics we should all hang our heads in shame", but Martin Crew said that while he was "hurting like all other Catholics", he was not questioning his faith. "I get really disappointed when people say they're walking away," he said. "That's not true faith. We're all sinners. Because of the sins of human beings they're lumping it on the church and saying 'it's not for me'. "There's nothing in God's word that says that behaviour [named in the Royal Commission] is OK. Religious people who have sinned greatly need to face the consequences of what they've done. "But this has only strengthened my faith. If we all walk away then how strong is our faith? This is a time when we need to go back to God and pray to God – for the victims, the sinners and those who haven't done anything wrong. "I've seen guilt by association. If you mention the word 'priest' to people, the first word that comes to mind now is 'paedophile'. The majority of people in the church are good, decent people."
When asked how his church had reacted to last week's revelations from the commission, he said the priests had said anyone suspected would be taken to the police. "They're acknowledging it's a horrible thing. The Archbishop of Sydney Anthony Fisher has put up a video where he apologises and explains what is being done to move forward."
Issue of cover ups
Addressing the issue in the media of allegations of abusers' activities being covered up by the church for decades, he said he couldn't believe that known paedophiles were simply moved elsewhere in every instance. He said there may have been other extenuating circumstances.
"Maybe the perpetrator's confession was heard and it was believed they were genuinely penitent and they wouldn't do it again. But we have a greater understanding of it now. "Those who had to make those decisions at the time the majority of these allegations occurred, likely wouldn't have had sufficient training in personnel issues, and certainly not in reporting alleged sexual offences. As such it is possible they weren't trying to cover it up. Priests do get moved around all the time."
St John of God Brothers
Regarding the allegations from the commission that 40 per cent of St John of God brothers had been named as abusers, Mr Crew was particularly pained. He was an altar boy at the chapel at St John of God Hospital at North Richmond from the age of 10, becoming an acolyte (a similar role) as a teenager. He has been going to that church and St Monica's all his life and is named after one of the St John of God brothers. "I've grown up around the St John of God brothers and I have a very strong and dear relationship with them. To hear them spoken about as the worst order of brothers -I absolutely disagree. "It's hurtful it's gut wrenching. They're suffering tremendously. My experience has been nothing but great and wonderful around the brothers of St John of God. "My father worked at the hospital teaching nursing to the brothers. If they're such horrible people, my father and I never saw it. The sisters took over the hospital financially and they worked closely together with them.
He said he wondered where the commission obtained the figure of 40 per cent of the order 's brothers, as a good friend of his is a St John of God brother who told him the figures known within the order. "In the history of St John of God brothers in Australia there have only been 113 professed brothers – since 1947. So far they've had one brother jailed and released, one ex-brother charged and one in jail now – three confirmed. There have been eight other allegations, which are unproven. "So of those 113 brothers, the top number [of alleged abusers] if all accusations were proven true is 11 – less than 10 per cent of brothers. I'd like to see how the commission gather their facts. I can't see how unproven allegations can be called facts. "This commission is investigating all cases , whether they are guilty, alleged or unproven. All they're doing is looking at every little accusation."
He said it was very hard for his friend who is a St John of God brother. "He has been questioned by his family and he told them if all known accusations are true, the most it could possibly be is 11. He said the nature of monastic life meant the brothers were like family to each other. "More than a family. They share their work and personal lives. They live together. Because of that they are suffering greatly. I'm not saying it didn't happen, but I'm firmly convinced all my friends [amongst the brothers] are wonderful, great, decent servants of God. Beautiful men."
He said it mustn't be forgotten the St John of God brothers are some of Australia's leaders in mental health facilities, and that the hospital at North Richmond they ran until 2007 is a "really impressive facility" with an "amazing PTSD clinic and drug and alcohol rehab program along with many others". "Their current hospital at Burwood, along with all of their mental health facilities, are also second to none." Overall he feels the way ahead for him as a Catholic is clear. "As horrible and traumatic as these experiences have been for all concerned , rather than turning away from the church. people should turn back to God and pray to him for help. "We should pray for victims, their families, the perpetrators and any of the clergy. In this day and age in a society that has a lot of horrible things happen, we need more than ever to turn to God. "Ask for his help and he will help. Leave it in his more than capable hands and we will make it through this, and any hardship. God's grace is wonderful."